Product Description
Real Timer Analyzer and Multi Test Tool Kit
The DM-RTA Pro kit includes everything you need for a complete portable audio measurement solution. Tightly packed in its blue hard case, it includes DM-RTA, AC and 12V DC power supplies, all required interfaces and custom test leads for line level and speaker level measurements. Also included is the AC-BT24 Bluetooth Streamer / Programmer, which lets you connect to the DM-RTA using your tablet or phone.
The kit includes:
DM-RTA Real Time Analyzer
110V AC power supply / charging adapter
12V DC power supply / charging adapter
USB A to B cable
USB A to A cable
AC-BT24 Bluetooth® Streamer & Programmer
CM-10 measurement microphone
XLR microphone cable
Speaker input to spring-loaded test leads cable
RCA input to spring-loaded test leads cable
AudioControl tuning pick (looks a lot like a guitar pick)
Blue hard case with laser-cut foam
AudioControl packs almost everything you need to measure and analyze the sound of any kind of audio system in an awesome carrying case. Along with the signal analyzer, metering microphone and Bluetooth® streamer, the DM-RTA RPO includes almost every type of cable you will need to connect it to any device you want to analyze.
DM-RTA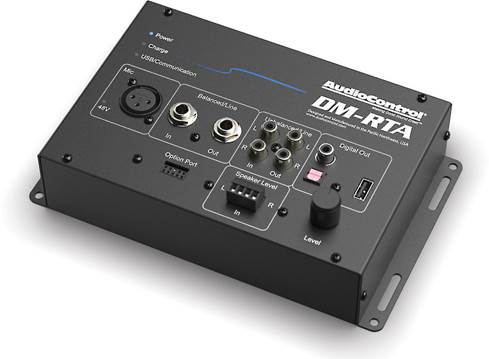 AudioControl DM-RTA provides five of the most important tools installers use to make systems sound great: an RTA, (or real-time analyzer), a voltmeter, a polarity tester, an SPL intensity meter, and a oscilloscope. The DM-RTA application works with your PC, Android or iOS device using a USB or wireless connection via the Bluetooth adapter. The DM-RTA can also generate test sounds and signals used for analysis, such as sine waves, clicks, and pink noise.
CM-10

The AudioControl CM-10 measuring microphone allows you to take accurate sound measurements with the DM-RTA. This multi-directional microphone has a calibrated internal preamplifier for powerful, flat response up to 20,000 Hz. And it can handle sound pressure levels up to 136 dB, convenient when working with PA speakers or competing car audio.
Note: This kit does not include a microphone clip and stand.
AC-BT24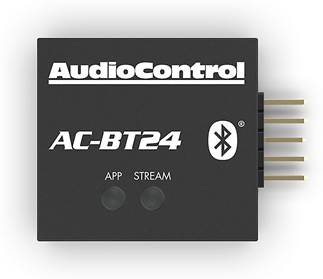 The AC-BT24 module allows you to wirelessly analyze a system with your compatible device. This Bluetooth adapter simply connects to the DM-RTA options port.